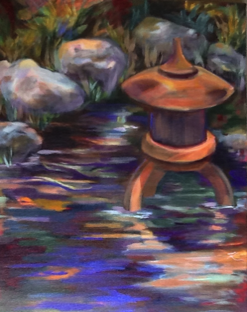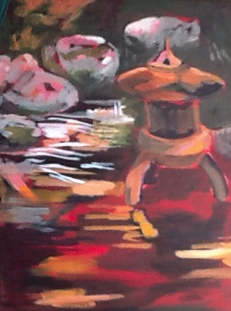 I paint on gallery-wrapped canvas with Golden artist colors. I use a professional finishing technique of painting on all four sides of the canvas edge. This allows the painting to be hung without a frame. Of course, a frame may be added if you prefer.
Painters I admire: Emily Carr, Fairfield Porter, Gerald Cassidy, Len Chmiel, Russell Chatham.

Kay at group show at Tortuga Gallery, 2018
Art is the activity that makes me happiest. I started studio fine arts classes at the University of Minnesota's School of Fine Arts in the 70s and have continued with classes for decades, recently at the University of New Mexico's College of Fine Arts and UNM Continuing Education. Although I have studied and worked in watercolor painting, oil painting, paper collage, ceramic process, graphite drawing, and intaglio printmaking, the medium that suits me best is acrylic painting. It's fast and fun. Using layers of color through the underpainting process adds a richness and depth to each work. I love to see surprising spots of color in a landscape: pink in the sky blue, slivers of red in the green foliage.
2018 Tortuga Gallery, Albuquerque, NM, three artist show
2017 Placitas Holiday Fine Arts & Crafts Sale, Placitas, NM—juried
2017 The New Mexico Art League, Albuquerque, NM—juried
2017 Art Gallery Studio 606, Albuquerque, NM—juried
2016 Placitas Holiday Fine Arts & Crafts Sale, Placitas, NM—juried
2016 New Mexico Arts & Crafts Fair, Albuquerque, NM—juried
2015 Placitas Holiday Fine Arts & Crafts Sale, Placitas, NM—juried
2015 New Mexico Arts & Crafts Fair, Albuquerque, NM—juried
2013 The New Mexico Art League, Albuquerque, NM
2012 The Hydra Gallery, Fifteen, Albuquerque, NM
and mentioned just for fun …
1959 The Walker Art Center, Minneapolis, MN
(3rd grade international art show, Minneapolis Public Schools)